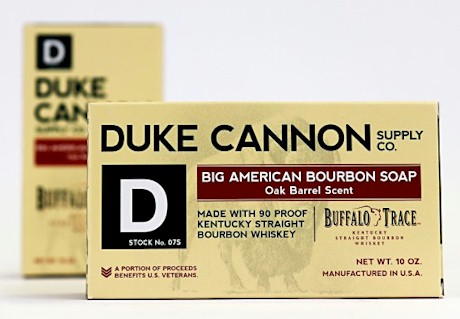 Big American Bourbon Soap by Duke Cannon Made with Real Bourbon

Nothing like a good soap, am I wrong? I'm also correct about the following assertion: There's nothing like a good bourbon. I bring these two seemingly disparate points up in concert because the soapsmiths at Duke Cannon Supply Co. have finally brought the two together, in the form of their Big American Bourbon Soap.

Duke Cannon's Big American Bourbon Soap is your basic but hefty ten ounce bar of soap, but its powerful oak barrel scent comes courtesy of real Buffalo Trace Kentucky Straight Bourbon Whiskey blended with whatever ingredients soap is made from (I probably don't want to know what those are). It definitely gives the old expression "wash your mouth out with soap" a new meaning.

Read more about Big American Bourbon Soap at the Duke Cannon online store here, where you can purchase a bar of your own for $9.50. Duke Cannon puts it best: "Does Bourbon benefit the skin? We have no idea, but bourbon tends to make everything better, so why not?"



Old Man Stumpy...

Finally, when Stumpy and Martha are both about 70 years old, Stumpy looks to Martha, and says, "Martha, I'm 70 now, and I don't know if I'll ever get the chance again, so I just have to have a ride in that there airplane." Martha replies in the same old fashion, and Stumpy kind of slumps down. The pilot is standing near by and overhears the conversation...

The pilot pipes up, "Excuse me folks, I couldn't help but hear your situation, and I have a deal for you. I'll take both of you up together, and if you can both make the entire trip without saying a word, or even making the slightest sound, I'll give the ride for free. But if either of you make a sound, its $10 each." Well, Martha and Stumpy look at each other, and agree to take the ride.

The pilot takes them up, and starts to do loop de loops, twists, dives, climbs and spins. No sound. The pilot lands the plane, looks back at Stumpy and says, "Sir, I have to hand it to ya, you didn't make even the slightest sound and that was my best stuff." Stumpy looks back at the pilot and says, "Well, I was gonna say something when Martha fell out, but $10 is $10!"



GRILLING WIRTH MISTRESS BIANCA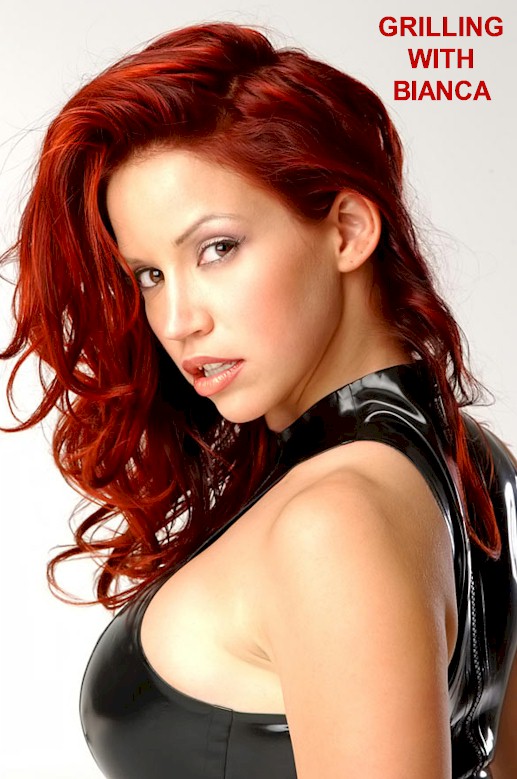 Hard Rock Cafe Chicken Soup

Ingredients
Vegetable Oil
2 pounds chicken breasts
2 tablespoons oilive oil
1 cup chopped onions
1/2 cup diced celery
5 cups chicken broth
1 cup water
1 cup diced carrots
1 teaspoon salt
1/2 teaspoon pepper
1/2 teaspoon parsley
(save extra for garnish)
2 cups egg noodles
2 cups oyster crackers

1. Preheat oven to 350

2. Grease a rimmed baking sheet with vegetable oil. Add the chicken and bake for 30 minutes . Remove from the oven and set aside.

3. In a large sauce pan, heat the olive oil over medium heat. Add the onions and celery and cook stirring for 4 minutes until the onions are carmelized.

4. Diced the chicken and add it to the pan with the remaining ingredients except the noodles and crackers.

5. Bring the soup to a boil and reduce and simmer for 30 minutes.

6. Add the noodles and simmer for an additional 15 minutes, or until the noodles are tender. Serve in individual bowls with a pinch of minced parsley sprinkled on top with the soup crackers.