FOREVER GLASS


There is almost nothing quite so demoralizing as a cracked iPhone screen. The Gonzo Guardz ForeverGlass is a new screen protector that can help you ensure that you will never have to check texts through a giant, horrific crack in reality, and it's backed up by an attention-getting lifetime warranty. Gonzo Guardz ForeverGlass lives up to its name by approaching the hardness and indestructibility of diamonds.

And even if by some scientific miracle your ForeverGlass screen protector does get damaged, it's protected by a lifetime "waRRRanty," the three R's standing for "Replace, Renew and Repeat." I just wish more things were covered under such a plan, since doing those three things seems like a good idea in a lot of different contexts. You can pre-order your own Gonzo Guardz Forever Glass for just five dollars at the product's Kickstarter page right here, where you can also see some nifty demonstrations of just how strong this glass is.


SISTERS OF MERCY

A man is driving down a deserted stretch of highway, when he notices a sign out of the corner of his eye. It says Sisters of Mercy House of Prostitution 10 Miles. He thinks it was just a figment of his imagination and drives on without a second thought. Soon, he sees another sign which says Sisters of Mercy House of Prostitution 5 Miles and realizes that these signs are for real. When he drives past a third sign saying Sisters of Mercy House of Prostitution Next Right, his curiosity gets the best of him and he pulls into the drive.

On the far side of the parking lot is a sombre stone building with a small sign next to the door reading SISTERS OF MERCY. He climbs the steps and rings the bell. The door is answered by a nun in a long black habit who asks "What may we do for you, my son?" He answers "I saw your signs along the highway, and was interested in possibly doing business."

Very well, my son. Please follow me." He is led through many winding passages and is soon quite disoriented. The nun stops at a closed door, and tells the man "Please knock on this door." He does as he is told and this door is answered by another nun in a long habit and holding a tin cup. This nun instructs "Please place $50 in the cup, then go through the large wooden door at the end of this hallway." He gets $50 out of his wallet and places it in the second nun's cup.

He trots eagerly down the hall and slips through the door, pulling it shut behind him. As the door locks behind him, he finds himself back in the parking lot, facing another small sign: Go in Peace, You Have Just Been Screwed by the Sisters of Mercy.



COOKING MISTRESS BIANCA
Easy Shrimp Linguini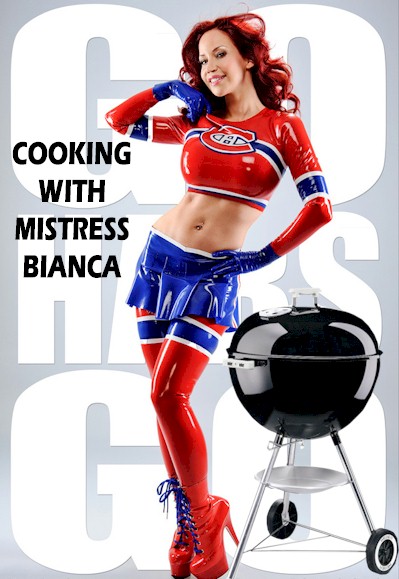 Easy to make, this is a hit for a dinner party or just a quick family dinner. Already cooked shrimp will work, but Peter and I prefer to saute our own. You can substitute chicken for the shrimp.

1 1/2 pounds cooked fresh shrimp
6 tablespoons butter
1 tablespoon minced garlic
1 cup heavy whipping cream
1/2 cup chopped parsley
3 tablespoons chopped fresh basil
1/2 teaspoon dried thyme
3/4 cup grated Parmesan cheese salt to taste ground black pepper to taste
1 (16 ounce) package linguini pasta

Cook pasta until al dente according to package directions.While linguine is cooking, melt butter or margarine in a large skillet. Add garlic, and saute briefly to release flavor. Add cream; heat just to boiling, stirring frequently. Lower heat, and stir in shrimp, parsley, basil, and thyme. Continue cooking until shrimp are just heated through. Do not overcook shrimp! Remove sauce from heat.Drain the pasta, and toss lightly with the sauce. Toss again with cheese, and salt and pepper to taste. Serve immediately.


Per the Commissioner, we have archived all of the past year's
football recipes from Mistress Bianca.
Just click right here