NEW COOKBOOK: THUG KITCHEN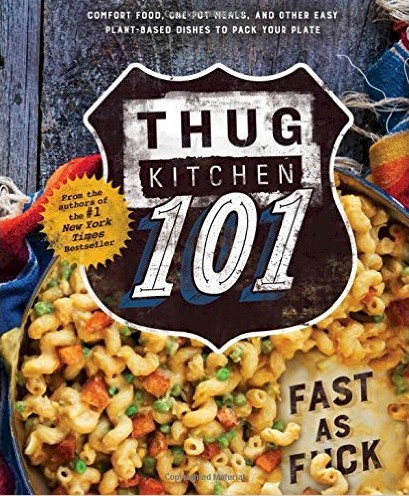 Popular food blog Thug Kitchen has done what so many other popular food blogs before it have done, and released some of its best material as a cookbook. It's called Thug Kitchen 101: Fast as F*ck (censorship theirs, by way of a well-placed macaroni), and it includes more than 100 recipes with high premiums placed on simplicity, convenience, and speed.

Thug Kitchen 101, as its title alone indicates, is not a typical cookbook, but a good choice for anyone who thinks cooking is too involved or too slow for them. Many of the recipes can be whipped up in less than the time a standard food delivery would take to get to your house.

The Kindle edition of Thug Kitchen 101: Fast as F*ck is priced at just under $13, with the hardcover edition a few dollars more than that at Amazon right here, where you can pre-order your own copy in advance of the cookbook's October 11th release date.


NEWLYWEDS

A couple just married and following the wedding, the husband laid down some rules. "I'll be home when I want, if I want, and at what time I want," he insisted. "And, I don't expect any hassle from you. Also, I expect a decent meal to be on the table every evening, unless I tell you otherwise. I'll go hunting, fishing, boozing, and card-playing with my buddies whenever I want. Those are my rules," he said. "Any comments?"

His new bride replied, "No, that's fine with me. But, just understand that there'll be sex here at seven o'clock every night... whether you're here or not."


TAILGATING WIGH MISTRESS BIANCA

Isaac Toups' Brisket Burger with Squash Pickles

|Ingredients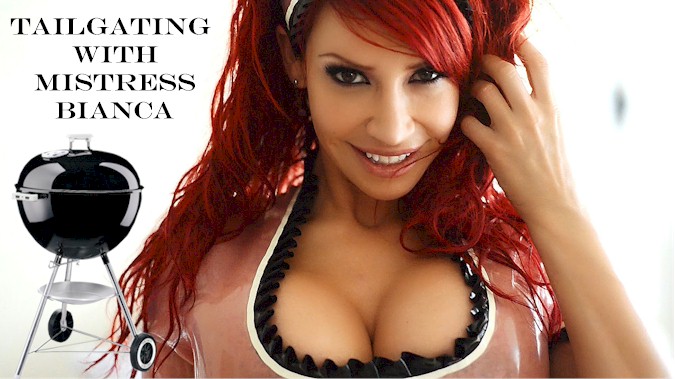 28 ounces ground brisket, chilled
4 ounces pork fat, chilled
4 slices bacon
4 ounces aged cheddar, sliced
4 buns
4 ½ tablespoons chili seasoning (recipe below)

Creole aioli (recipe below)

Squash pickles (recipe below)

Chili seasoning
2 tablespoons ground arbol chili
2 tablespoons aleppo pepper
2 tablespoons fresh ground black pepper

Creole aioli
2 tablespoons mayonnaise
2 tablespoons creole mustard

Squash pickles
1 quart mixed yellow and green summer squash, sliced thin like 1/8 inch
1 1/4 cup cider vinegar
1 cup water
1/3 cup sugar
1 teaspoon salt
2 teaspoon turmeric
1 teaspoon curry
1 teaspoon chili flakes

Prep - Combine chilled brisket and pork fat together, mix by hand, folding the mixture on top of one another four to six times. Make sure not to emulsify. You want it to be kind of crumbly. Separate into 8-ounce portions, form into approximate 5 inch patties. Make sure to make a thumbprint in the middle of patty to insure even cooking. Chill for at least thirty minutes.

For the Pickles - Bring liquids and seasoning to boil making sure salt and sugar is dissolved. In 1 quart mason jar or food safe container, pour hot pickling liquid over squash. Cool to room temp and refrigerate. Pickles are ready when cold but better after 24 hours. Shelf life is 2 weeks.

Make aioli: Combine equal parts mayo and Creole mustard.

Patti Prep - : Generously season patties with kosher salt and form a good crust on each. Salt the patty before adding the seasoning blend. This is important! Add about 1-1 ½ tablespoons seasoning blend to each patty. In a cast iron or French steel skillet, get grapeseed oil on high heat until just starting to smoke. Sear burgers for two minutes on each side or longer, keeping in mind 120F is rare and 130F is medium. I suggest 130. Transfer to wire rack to rest for one minute. While burgers are resting, assemble buns with generous dollop of aioli on each side. Then add patty, cheddar, bacon, and pickles, to bottom bun and add sauced top bun. Then serve.


Per the Commissioner, we have archived all of the past year's
football recipes from Mistress Bianca. Just click right here